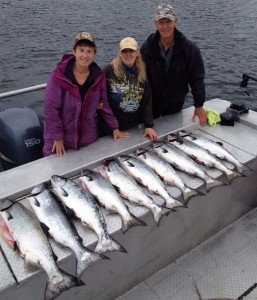 I have known Larry for over 40 years! Over those many years, I have come to respect him and his professionalism and his enthusiasm in making sure that we had every opportunity to fill our tags or to catch fish. From his early elk and deer hunting operations in Idaho, to his fishing lodges in Alaska, I have never been disappointed and am impressed in how he takes such personal care of his clients, making sure that they are safe, comfortable and happy.
In the several times we have been to Pelican, we never grow weary of the pristine beauty of Southeast Alaska. Part of the trip is just being there. Even if it rains, it cleanses the soul! The catch of King or Silver salmon and halibut or yellow eye is, really … just the icing on the cake. But every time we cook something out of the freezer during the next year, we relive those special moments of Pelican.
And be careful, they really do a nice job with the food. You might just come away a few pounds heavier. Larry and Vicky are the real deal. They will always do their best to make sure that everyone has their money's worth!
Al and Jo Crane