Jarrett Mountain Whitetails at LazyJ Ranch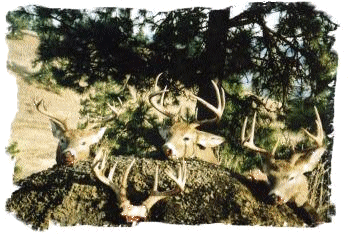 Come hunt this fantastic private ranch located in the
whitetail infested Clearwater River area of Idaho.
Our elevation is from 1500 to 3000 ft.
Special Report on 2021 Whitetail Deer Season
Outfitting big game hunters since 1971 has given Larry Jarrett 52 years of vast experience and skills in this highly successful operation.    Scroll to the bottom for the addition of our Whitetail / Mulie Combination Hunts Photos.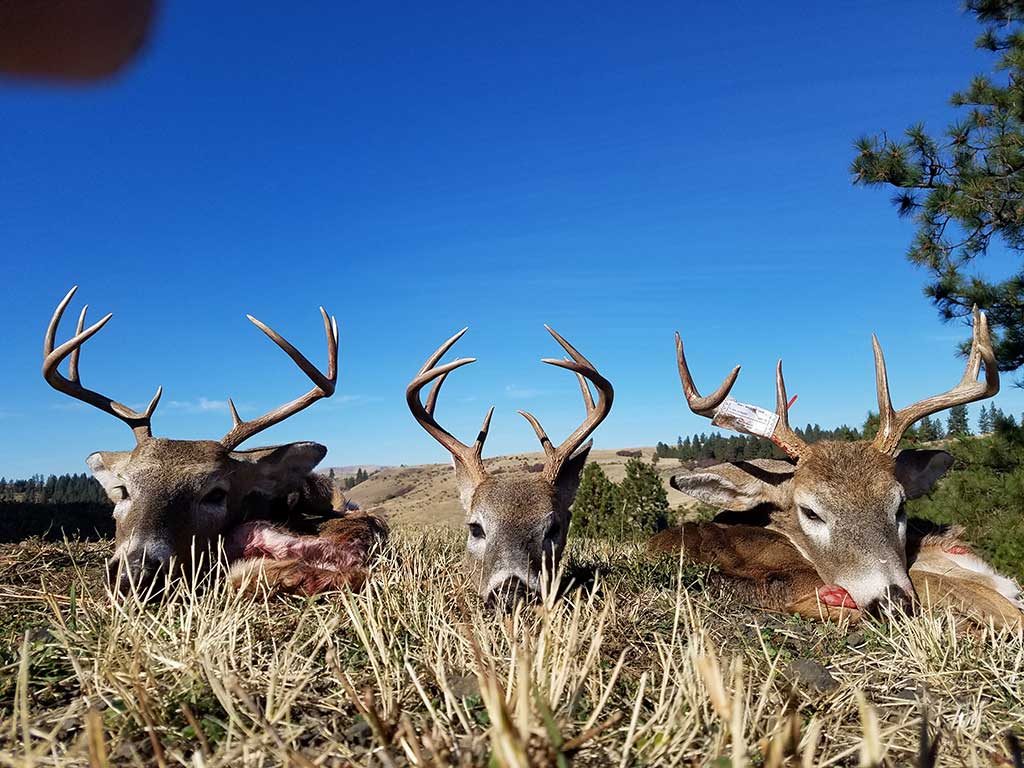 Lazy J Ranch is not a high fence Ranch nor do we offer Trophy Hunts for record Bucks.   We're conducting a fantastic hunting lodge where hunters can come to enjoy a quality experience.   We handle a limited number of hunters and outfitter Larry Jarrett is present on all hunts.   The Ranch only takes a dozen or so hunters per season.  So we recommend booking as far in advance as possible to ensure that we can accommodate your best dates.
Larry Jarrett carefully manages this mountain ranch only for wildlife, and opens the ranch to a very limited number of hunters.   Hunts are for 7 days.  You will enjoy the entire ranch exclusively for your group, for a truly un-crowded experience.  
—————————————————
IMPORTANT INFORMATION PLEASE READ 
Over my many years of Guiding and Outfitting I have added much information to this website. One such item has been the choice of rifle calibers I recommend for use at the Lazy J Ranch.. Only .270 caliber and larger is the optimal choice. If you wish to use a lesser caliber then you and
I will need to DISCUSS THIS PRIOR TO YOUR SCHEDULED HUNT.  The deer on the Ranch are not flatland deer and are born in rough terrain. From that time on they climb and walk over all kinds of surfaces, much of it on steep terrain. As such their muscle development makes them one tough animal. Therefore, a hunter needs a caliber that has some serious knock down power. I insist on NO NECK SHOTS, so hit the shoulder, or close behind it, and put your buck down hard. If you are not comfortable with the shot that a buck presents then PLEASE PASS ON THE SHOT. Whitetail are local and will most likely be in the same area and another chance will present itself.
Regarding crippled animals, I am a big hearted person and crippling is a serious concern to me.   
—————————————————
As reflected in our photo gallery for our hunting ranch
, we do harvest nice deer.  Deer at Lazy J Ranch are free roaming and come and go as they want in a very natural environment.  Ongoing work with habitat and upgrades are really paying off in the quality of the game on this rare gem of a place located above the South Fork Clearwater River near Kooskia.
Where can you go for $2995 and hunt a private Ranch that for 22 years running boasts 100 percent.  

What Does 100% Mean? 

Well,  all Hunters who have visited my Ranch have either taken a Buck or had multiple chances and passed for simply looking for a monster,  or missed several bucks due to many different reasons.   The number of hunters leaving our private hunting ranch WITHOUT a Buck you can count on one hand over the past 22 years.  

—Please Note:   Things happen when we have such a high percentage of harvest:   weather ( rain, snow, wind and fog, AND YES just bad luck) can play a big part in the Game movements.    100 percent is tough to maintain,  but we give it our BEST SHOT. 

What more can I say?   We take only a minimum number of hunters in a season,  so why pay a lot more for a hunt that offers less success?  

Give me,  Larry Jarrett, a try if you haven't had satisfaction in your Whitetail Buck hunts.   Our private hunting grounds and our guest hospitality (including wonderful meals)  is second to none.  

We're the REAL DEAL!  
I suggest that guests harvest 4 Point or better Bucks,  but should you decide to take any Buck then that is OK with me,  as this is your hunt.  All hunters have multiple chances at bucks with some waiting for the right buck.  As for comfort and meals at Lazy J Ranch,  they are top notch.  I care about not only your chance at a nice Deer but that you have the best in lodging, home prepared meals and equipment.
Because we use stands, and do not walk around, the wildlife moves freely about the area, and are not bothered by hunters moving around. You can stay in the stand all day or take a mid-day break and return for the evening hunt.
We have excellent equipment and over 52 years experience to give you the Hunt of a Lifetime!  Check out our Idaho Lodge Page and the growing Hunting Brag Board.
SaveSave
SaveSave
SaveSave
SaveSave
SaveSave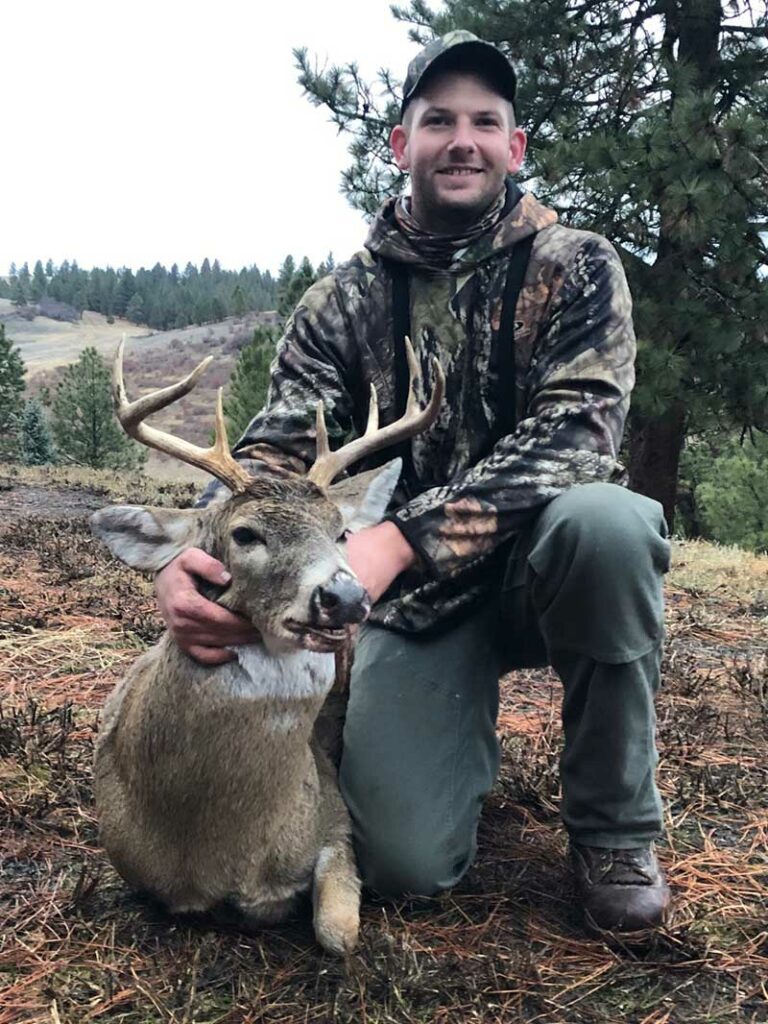 Whitetail Deer Hunt
Idaho Hunting Lodge * $2,995.00 per Hunter
Includes seven full days of hunting for nice bucks.
Note: Please no single shot rifles and a minimum Cal of 270 or larger.
If you want to harvest a Doe as a second Deer, there is a $500 additional charge for that deer.
Does not include personal hunting gear, license, and tags.
Whitetail Deer & Mulie Combination Hunt
Larry offers a White Tail — Mule Deer Combo Hunt. Details below.
How this works: You book the White Tail Hunt and put $1000 down to hold that hunt. Next, you apply for the Mule Deer Special Tag. If drawn, the cost for both Deer is $7800. You will deposit an additional $1500 to hold that portion of the hunt. If not drawn, then you still hunt the whitetail. When: The Date for this combo Whitetail and Mule Deer Hunt is October. Please call for more details and to reserve your hunt.
Recent Review submitted for Larry Jarrett's Lazy J Ranch White Tail Hunt.
Click here for Inquiries Via Email