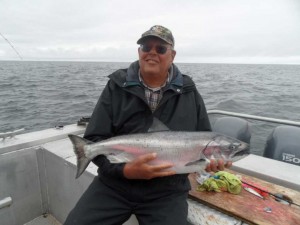 Since our trip to Alaska last summer, I have had a lot of time to reflect on it and I have to say the fishing experience was the trip of a lifetime for me.
I had wanted to have a fishing-wilderness Alaskan experience all of my life and this trip more than satisfied this dream.  Larry and Vicky were wonderful hosts!  Larry provided fantastic fishing opportunities, all of the fishing equipment we needed, and very needed advice on how to catch and land our fish!  He was always there to assist us!  His experience and excitement were wonderful!  In the process we saw Alaskan wildlife and all of the beautiful scenery this part of Alaska could provide.  I have fished many lakes in Minnesota and Canada and have had many great fishing experiences, but nothing compares to catching the 32" King Salmon with Larry-back and forth, up and down, beside the boat, under the boat!  Wow, what a fight!   Catching that one fish would have made the whole trip worthwhile.  And we all caught many more.  Larry was our guide and mentor!  I still dream of catching that fish and the wonderful experience we had.
I hope we can do it again!
Thanks Larry and Vicky!
Dave Wildung